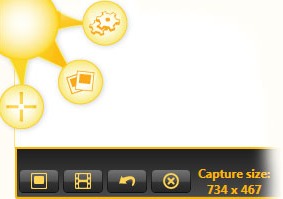 Jing is a free software that allow us to take snapshots and record video from our screen.
Besides, this great software have a excellent share feature with direct upload to Flickr, screencast.com or another server throw FTP support.
We can also save our visuals to a local file or to clipboard.
Available for both Windows and Mac OS X, it is the a great solution for personal and professional use.
Great features:
Take screen pictures from window, pane or region;
Add visual effects to your images to explain something by highlight, adding text or figures (arrow and rectangle)
Jing saves the images in a PNG file;
Record an onscreen video from a window or a region (in the free version it records only 5 minutes);
Add voice comments on the fly;
Save your movies in SWF or MPEG4 (PRO version only)
Share your files directly to Flickr, Youtube, another server via FTP, save it in a local file or copy to clipboard;
How to use it?
Take a screen picture
It's very easy and effective.
Use the hotkey or mouse over the sun and click capture
Select one of the supported modes: window, pane or region (select the region)
Share your image
Good enough? Not for Jing. After taking the picture, Jing has a great feature where we can highlight, add text, arrows or rectangles.
Now we have the image, just share or save it in your computer.
Record an onscreen video
Taking a picture was easy? Record a video is easy too.
Start capture mode like with the hotkey or with a mouse click
Select what you want to record (window or region)
Do whatever you want in the chosen region
You can add voice comments on the fly
Save your movie as an SWF file or a MPEG4 one (only in the PRO version)
More information on Jing's Website
P4F5R3BF4JTR